Bulk Tanks for End Users:
500-16,500 Gallon Bulk Tank Systems
KleerBlue offers a full arrray of bulk tank systems for retailers, fleets and other DEF users. These tanks have be engineered for the most demanding environments and built to your specifications.
Aboveground tanks are easier to install and less disruptive to your operations than their in-ground counterparts. They cost less, and can be manifolded to additional tanks so that you can quickly expand your storage capacity as demand increases. If and when you want to reconfigure your facility, tanks can be moved and/or resold so you don't lose your investment. Tanks can be located outdoors in warm climates, stored inside shelters or equipped with a factory-installed insulation and heating system.
DESIGN A BULK SYSTEM AROUND YOUR EXACT NEEDS
Between your facility, local climate, and DEF usage, the solution you need can be unique to you.
KleerBlue offers tanks from 500 to 16,500 gallons from a variety of manufacturers to give you both the tank size and capacity you need for your facility.
Optional factory-installed R16 insulation protects against extreme temperatures.
Optional factory-installed heating system heats DEF preventing freezing and dispensing downtime in cold climates.
Each system is equipped with single submersible pump, but multiple pumps can be manifolded to service multiple dispensers.
MEET STATE & lOCAL REGULATIONS
Each state and local municipality differs in its regulation of DEF. That's why we offer a series of options to reduce liability & offer peace of mind.
Standard KleerBlue bulk poly tanks are built to ASTM D1998 specifications.
Standard tanks are single-walled UV stabilized HDLPE polyethylene flat bottom tanks. Double-walled tanks are also available.
Tank straps, wind and seismic restraints are available to prevent tanks from falling or being blown over.
PROTECT YOUR INVESTMENT & AGAINST LEAKS
Thanks to our 60+ history in the oil, gas & agriculture industries, we understand poly tank design and have engineered a solution that is built to withstand the most challenging environments.
Tank access fittings are limited to the top to eliminate the chance of sidewall leaks and improve the tank structure integrity.
The tank design features mechanical overflow protection, pressure relief and properly designed ventilation.
The tough HDLPE polyethylene wall is UV protected, corrosion proof and impact resistant.
The aboveground nature of the system allows you to relocate the unit and/or resell it as DEF demand grows.
OPTIONAL TANK FEATURES
Need something other than the standard system? Consider these options:
Tanks can be manifolded together for additional size/capacity options.
Digital alarms and tank gauges can be added for increased volume oversight.
Insulation & heating, double-walled tanks, tank straps, wind & seismic restraint systems can be added to meet local requirements.
Two or three submersible pumps can be manifolded together for backup or additional pressure requirements.
OPTIONAL DISPENSERS
Need a way to dispense DEF from your tank? Consider these options:
KleerBlue's basic dispensers offer no-frills dispensing.
KleerBlue's Commercial dispenser offers improved weather resistance and can include features such as a hose reel, filtration, pulse output and more.
KleerBlue APEX and REGAL Fleet & Retail dispensers offer a sleek design, high grade internal components and sophisticated electronics to communicate with your software.
Our bulk tanks are also compatible with 3rd party dispensers.
DIMENSIONS/SPECIFICATIONS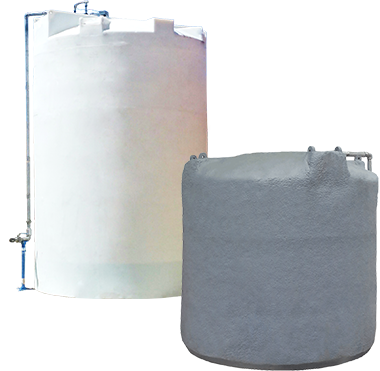 Standards & Approvals:
ISO 22241 - 3 & 4
PEI RP1100
ASTM D1998 (optional commercial)
Operating Temperature:
-40˚F/-40˚C to 120˚F/48˚C (with optional heating & insulation)
Size & Dimensions:
Dimensions vary based on tank size and manufacturer. Call for details.
Tank Containment:
UV stabilized
HDLPE polyethylene vertical flat bottom
Single wall
Option: Double wall
Heating & Insulation:
Option: Factory-installed 2" polyfoam insulation
Option: Factory-installed Delta T-50 heat system
Electronics:
One 20 amp 115V AC circuit required per pump
Pump and Discharge Outlets:
1" stainless steel discharge line to top of tank
Option: 3/4" discharge hose for single dispenser
Option: 1" insulated and heated discharge line for single dispenser
3/4 HP submersible pump
No priming required
Rated for 400,000 start/stop cycles
Up to 18 GPM (recommended max per dispenser is 10 gpm)
Option: manifolded dual or triple submersible pumps
Security/Accident Prevention:
Tank top fittings (no side wall fittings) to prevent leaks
Mechanical overfill protection
Pressure relief system
Tank vents
Manway
Extra 2" opening on top of tank for add-ons
Option: Tank straps
Option: Wind & seismic restraint system
Option: Digital tank level gauge
Option: Visual & audible high product alarm
Fill Inlets:
Waist-high stainless steel fill access point for top fill line
2" stainless steel ball valve fill port
1.5" hose or 2" stainless steel top tank fill line with check valve and lockable ball valve
Option: 2" stainless steel drybreak (Parker, OPW or TODO)
Option: Insulated and heated inlet plumbing
Dispenser:
Option: KleerBlue basic dispenser
Option: KleerBlue commercial dispenser
Option: KleerBlue APEX fleet or retail dispenser
Option: KleerBlue REGAL fleet or retail dispenser
Option: 3rd Party dispenser
Installation:
Tank wrap for shipping
Onsite installation required. Detailed instructions included.